Send a message that lives forever
on the blockchain. Retire carbon credits to offset emissions with every message you send.
LEAVE THE WORLD BETTER
FOR THE NEXT GENERATION
In times of environmental crisis, coordination failure, and increasing greenhouse gas emissions, our generation can work together to turn the tide of climate change. Send a love letter, and retire carbon offsets every time you do.

This is your chance to fund projects that are protecting our planet.
Love Letters to the Planet is powered by
TONNES OF CO2 RETIRED
WITH LOVE
LOVE
LETTERS
People and businesses all over the world are writing love letters. Join the movement for the future of our planet.
SEND A LOVE LETTER TO THE PLANET
With KlimaDAO, it can cost less than a cup of coffee to retire 1 tonne of carbon emission offsets. That's about 3x what a car emits per month.
Each time you retire, you help direct funding to projects that are protecting our planet from climate change.
Connect to the KlimaDAO Carbon Retirement dApp
i) Click here to open the dApp:
ii) Click the top right of the page to connect your Metamask or Coinbase Wallet.
Choose the type of projects you want to support
1 tonne of carbon is roughly 3 months of a car's emissions.
Select BCT if you want to support projects like renewable energy production, NCT if you want to support nature conservation, and MCO2 if you want to support the Amazon rainforest.
You can use KLIMA or USDC to make the transaction.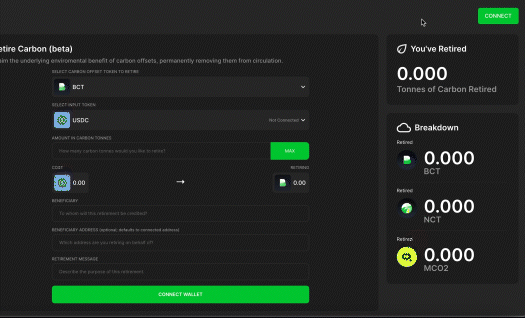 Write your love letter in under 280 characters
Dedicate your retirement to offset your own carbon emissions, or on behalf of a loved one, and enter your message. There is a 280 character limit.

Click "APPROVE", follow the instructions in your wallet, and then click "RETIRE".

Congratulations. You are part of a movement that is turning the tide against climate change.

Find your love letter here! The page is updated every few hours.
The easiest way to send a love letter is by using KLIMA to pay for the carbon retirement transaction.

Use this portal from our partner Transak (*outside the USA only. US-based users can get KLIMA here.)
Join the KlimaDAO community on Discord for any help, and to get involved with what we're building.