Join KlimaDAO as we give one hour to do something - anything - positive for our planet.
Shut down your devices, turn off the lights, reduce your energy consumption, and join tens of thousands of people worldwide for #EarthHour2023.
Consider sending a Love Letter to compensate for your carbon footprint - no matter how large or small. The best Love Letters will be featured on our home page.
As you do your part, we promise to do ours, continuing to build the solutions that help create a sustainable future.
SEND A LOVE LETTER TO THE PLANET
With KlimaDAO, it can cost less than the price of a cup of coffee to retire 1 tonne of carbon emissions. That's about three times what the average car emits per month.
Each time you retire, you help direct funding to projects that are protecting our planet from climate change.
Create a Wallet and Connect to the Klima App
i) Click the button to open the KlimaDAO app
ii) Click the connect button on the top right of the page and choose the "Social or Email" option to create a wallet with Torus
Advanced: Feel free to use your own Polygon-compatible wallet (Metamask, Coinbase Wallet, or other wallets supported by WalletConnect)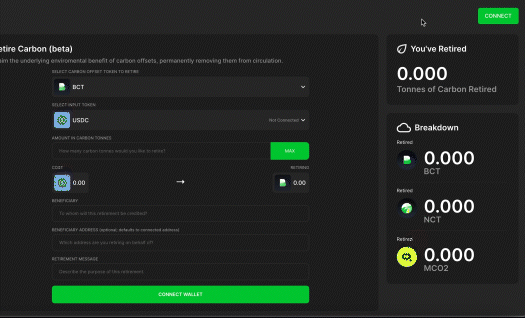 Choose the type of project you want to support
i) Choose your preferred carbon token to retire. Select BCT or UBO if you want to support renewable energy projects, select NCT or NBO if you want to support nature conservation, or select MCO2 if you want to help conserve the Amazon rainforest.
Optional: You may also choose specific projects to support using the advanced selective retirement option; however, please note that this feature does incur extra fees.
Write your Love Letter to the Planet
i) Dedicate your retirement to addressing your own carbon emissions, or act on behalf of a loved one, and enter your message. Note that there is a 280-character limit.
ii) Choose to pay via credit card (powered by Stripe) and use the checkout page to finalize the transaction.
Optional: You may also choose to accomplish the transaction using USDC or KLIMA with your Web3 wallet
Congratulations!
You're now part of a movement that is ensuring the preservation of the planet for its future inhabitants